Preparing for your Stay
Visas
Visa requirements vary according to nationalities. Unless you have an agent handling your visa application you will need to contact the British Embassy, Consulate, or High Commission in your country to obtain information on how to apply, or visit the UK Government website:
https://www.gov.uk/government/organisations/uk-visas-and-immigration.
Once you arrive in the UK and as visa regulations frequently change, we strongly advise you to check the UKVI website on a regular basis in order to keep up to date with the latest information that may affect your status in the UK.
How much to budget for living expenses
Of course, this depends on your lifestyle preferences, but here is a rough guide to the cost of living in London:
| | |
| --- | --- |
| Average weekly rent per person in zone 2-4 | £150 – £190 |
| Food, basic laundry and toiletry items for 1 person per week | £40 – £50 |
| Pub meal | £10 – £20 |
| Restaurant meal | £15 – £30 |
| Pint of beer | £4.50 – £5.50 |
| Weekly Zone 2-3 Travelcard | £25.50 |
| Cinema ticket | £12 – £18 (£9 – £15 with a student card) |
| Nightclub | £15- £30 |
| English dictionary or grammar book | £20 |
| West End Theatre | £25+ |
| Haircut | £10 – £40 |
What to bring with you?
There are lots of shops near the school, and Camden is a cosmopolitan place, so you can buy most things you might need. Here are some ideas:
Money: there are banks and cash machines near the school, but it is a good idea to bring some British pounds (GBP) with you or get them at the airport when you arrive. £50 – £100 should be enough until you can get to a bank. We do not advise you to carry large amounts of money in your pockets or bag.
Laptop computer: the school and the accommodation we offer have wireless internet. If you bring your laptop, please insure it before you travel.
Mobile phone: many students buy a "pay as you talk" SIM card for about £5 at one of the mobile shops near the school.
Electrical adapter: the UK mains electricity is 240V and 50Hz. An adaptor may be useful, but you can buy these near the school too.
Hairdryer: these are not provided at TopUp Learning London (Tti) accommodation, so it is a good idea to bring one with you. However, you can buy one locally for as little as £12 (for example at the shop called Argos).
Clothes: the weather is generally mild in the UK, but it is very changeable, so whatever the season, bring clothes for a range of different weather conditions.
Documents: Print out and bring all the documents the school or your agent gives you, especially accommodation and taxi confirmations.
Maps: If available, we will give you a map when you arrive, but it's a good idea to look up a map of the area on http://www.google.co.uk/maps before you come. Input the postcode of the school: NW1 0NE.
Insurance
It is your responsibility to insure yourself for health and personal accident for your entire stay in the UK, and we strongly advise that you do so. You should find a suitable travel insurance policy from an insurance provider in your country.
Getting to TopUp Learning London (Tti)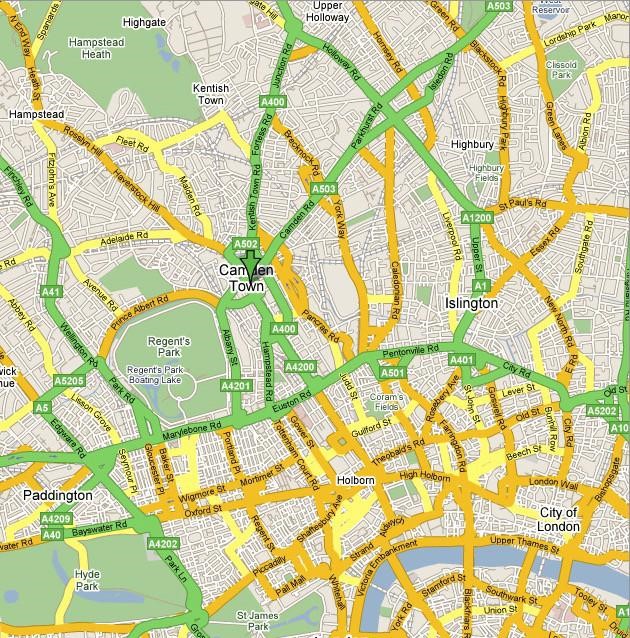 Location of Camden Town in London
148 Camden High Street, London NW1 0NE
Location of TopUp Learning London (Tti) in Camden Town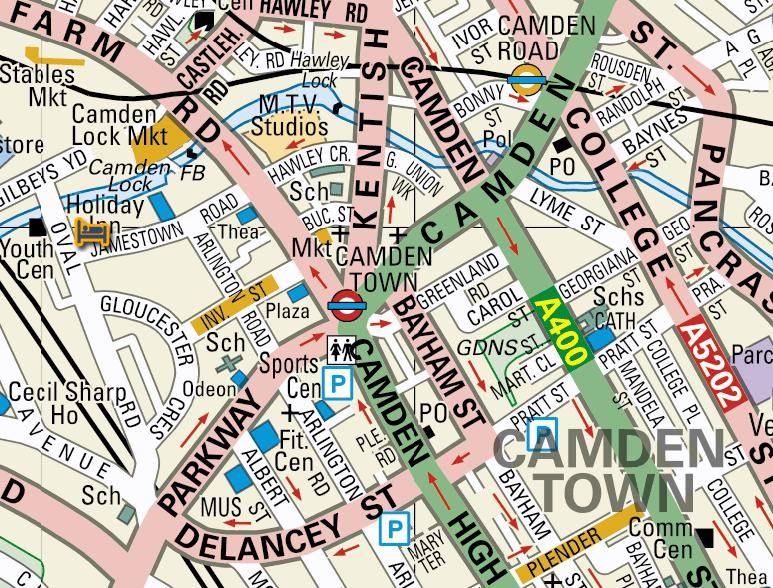 From the airports and other terminals by public transport
TopUp Learning London (Tti) is located in Camden Town, just a one minute walk from Camden Town Underground Station, on the Northern Line. The first thing you should do in London is get an Oyster Card (see page 7), for the Underground (Tube), buses, and some railway lines in London – it's the cheapest way to travel. It's a good idea to visit www.tfl.gov.uk for maps and information about London transport.
If you are staying in accommodation arranged by the school, please check the arrival instructions on your Accommodation Confirmation. As most of our accommodation is located near to stations on the Northern Line you will need to check to which branch of the Northern Line (Edgware or High Barnet) you have to take the train to. Please visit www.tfl.gov.uk for information about how to get to your accommodation.
See below some instructions on how to get to Camden Town and the school from the main airports in London, then from Camden Town you can easily get to most of the accommodation.
From Heathrow Airport
Heathrow is the UK's busiest international airport. The airport has 5 terminals, so it is important to check with your airline which terminal you will be arriving at. Find out more at www.heathrowairport.com.
By Underground
The London Underground Piccadilly Line is the cheapest route from Heathrow Airport to central London. You can buy a ticket at any of the three underground stations: Terminals 1/2/3, Terminal 4 and Terminal 5. Take the Piccadilly Line towards Cockfosters, change at Leicester Square Station for the Northern Line (Northbound) and get off at Camden Town Station – the school is just one minute's walk from the station.
Cost:
£6.00 cash fare at any time
£5.30 with an Oyster Card (Peak Times 06.30-09.30 and 16.00–19.00)
£3.30 with an Oyster Card (Off Peak Times)
By Heathrow Express
The Heathrow Express is a non-stop train service that offers the fastest journey between Heathrow Airport and central London. The journey time is just less than 25 minutes depending from which Terminal you arrive at. You can buy tickets online from www.heathrowexpress.com or at the airport. Take the Heathrow Express to Paddington Station. From Paddington it is just a short journey to Camden Town; you can either get a taxi or the bus 27 towards Chalk Farm.
Heathrow Express ticket prices:
Single Ticket: from £22 (Express), £32 (Business First)
Return Ticket: £37, £55 (Business First)
Taxi from Paddington to Camden Town: approximately £20 by taximeter
From St Pancras International Eurostar Terminal
St Pancras International is 30 minutes' walk from TopUp Learning London (Tti). To Camden Town you can get the Tube (Northern line, only 2 stops) or the bus number 214 (towards Highgate Village / North Road).
Cost:
Bus: £1.50 with an Oyster Card/Contactless
Tube: £2.40 with an Oyster Card or £5.50 cash fare
From London City Airport
From London City Airport, TopUp Learning London (Tti) is just a short-journey away. Take the Docklands Light Railway (DLR) direct to Bank. At Bank change for the Northern Line, Camden Town Station is just 6 stops away. The journey takes about 40 minutes and you should ask for a ticket to Zone 1 at the London City Airport DLR Station.
Cost:
£3.40 (Peak time) £2.80 (Off Peak) with an Oyster Card
From Stansted Airport
By Stansted Express
This is a fast and convenient way to and from Stansted Airport from central London (Liverpool Street Station) with an average journey time of 45 minutes. Buy tickets online at a discount at www.stanstedexpress.com or at the airport. At Liverpool Street Station you can get a taxi to Camden Town or walk to Moorgate Underground Station and get the Northern Line (Northbound) to Camden Town.
Stansted Express ticket prices:
Single: £19.90
Return: £31.50
By coach
National Express connects Stansted Airport direct with London Golders Green. You can buy tickets online at www.nationalexpress.co.uk or at the National Express booth at the airport. You should buy a ticket to Golders Green Underground station, where you can get the Northern Line (Southbound) to Camden Town.
National Express ticket prices:
Single: From £9
Return: From £10
From Luton Airport
By train
This is the fastest way from Luton Airport to North London. The journey takes less than 50 minutes with East Midlands Trains company (www.eastmidlandstrains.co.uk) and about 1 hour with Thameslink Railway (http://www.thameslinkrailway.com), both companies offer regular services from the airport to Kentish Town and St. Pancras International Stations where you can either get the bus to Camden Town or change for the Northern Line.
Train ticket price:
Single: £17.60 / First class: £26.80
Return Trip: £35.20/ Anytime return: £48.60
By coach
Travelling by bus or coach to and from London Luton Airport could not be easier. There are three companies which run 24-hours a day between the airport and Central London. To get the best fares book your tickets online at easyBus (www.easybus.co.uk), Greenline (www.greenline.co.uk) or National Express (www.nationalexpress.com).
From Gatwick Airport
By train
Southern Railway Company operates a train between Gatwick Airport and London Victoria Station with trains departing every 15 minutes and a journey of only 35 minutes. You can buy tickets online from www.southernrailway.com or at the train ticket desk located outside the arrivals area. At Victoria Station you can take the Victoria Line (towards Walthamstow Central) and change at Euston Station for the Northern Line (Northbound). Get off at Camden Town Station.
Train ticket price:
Single:£12/£18
Return:£24/£30.80
There is also an express train called Gatwick Express (www.gatwickexpress.com), which is faster:
Single: £19.80
Return:£39.60
By coach
National Express is the largest coach company in Britain. You can buy tickets online at www.nationalexpress.co.uk or at the National Express booth at the airport. You should buy a ticket to Golders Green Underground station, where you can get the Northern Line (Southbound) to Camden Town.
National Express ticket prices:
Single: From £7/£14.10
Return: £14/£27.80
From Victoria Coach Station
Victoria Coach Station is just a few minutes' walk from Victoria Underground Station, where you can get the Victoria Line towards Walthamstow Central and change at Euston for the Northern Line (Northbound) and Camden Town is the next stop.
Cost:
£3 (Peak Times) £2.50 (Off Peak) with Oyster Card
£5.50 Cash Fare
TopUp Learning London (Tti) taxi transfers
TopUp Learning London (Tti) can book you a taxi transfer if you send your request by the Thursday before your arrival. Please ensure you have received a taxi confirmation document from us before you travel, print it and bring it with you.
The prices for an airport pick up in 2023 are:
Transfers
One Way*
Return Transfer
Heathrow
£120
£220
London City Airport
£120
£220
Luton
£140
£260
Stansted
£140
£260
Gatwick
£140
£260
Eurostar (St Pancras International)
£100
£160
Victoria Station
£100
£160
Supplement for a second passenger to the same destination
£55
The school will invoice you, so you do not need to pay the taxi driver.
To book, please send us your flight number, arrival date and time, where the flight is coming from, and which airport it will arrive at. Heathrow Airport has five terminals and Gatwick has two terminals, so please tell us which terminal your flight will arrive at.
Your expected time of arrival
If you are not going to take a taxi transfer, please tell us your expected time of arrival (e.t.a.) anyway a few days before you travel. You can e-mail it to us at info.london@topuplearning.com. We will tell your host if you are going to stay in a homestay, but it is polite for you to contact the host family directly too. The telephone number of your host family or accommodation manager is on your Accommodation Confirmation. Please read the arrival instructions on your Accommodation Confirmation carefully.
School weekend emergency contact number
If you can't get into your accommodation you should try to telephone your host or accommodation provider first. If you can't get through to them, you may use the school's emergency number: 0044 7899677528. This number is only for arrival emergencies at weekends.
Getting around London
Oyster Cards
What is Oyster?
It's an electronic "smartcard" that can be used on the Tube, trams, buses, DLR, London Overground and some other rail services in London. Using an Oyster Card saves you money and time because it always automatically calculates the cheapest fare for the journeys you make in a day and you just need to top it up with cash or renew your Travelcard/Bus Pass when needed and in advance!
How do I use it?
On the Underground, Overground and DLR stations there are yellow circular readers on top of each ticket barrier that allows entry into the station. Just touch the Oyster Card on the pad and the barrier will open. Don't forget to touch the yellow reader again on your way out – if you don't you will be charged a higher fare next time you use your card. On buses, the reader is located near to the driver's ticket machine and you only have to touch your card once.
How do I get an Oyster Card?
You can get one from most Tube and Overground stations, at London Travel Information Centres, online, Ticket Stops in London or even in your country. See https://account.tfl.gov.uk/oyster for more information.
When you first get your Oyster Card, you will need to pay a £5 deposit.
Pay as you go:
This system allows you to store cash on your card to pay for single journeys as you go. It is the right choice for you if you make a couple of journeys per week. Using this system is always cheaper than buying a "day pass" (paper ticket) for the Underground and buses.
Travelcards (season tickets):
Ideal for those who need to travel every day. You can store 7-day, monthly or longer period Travelcards and Bus Passes on your Oyster Card. Travelcards are valid for travel on the Tube, Docklands Light Railway, London Overground, buses and National Rail. Your Travelcard must be valid for all the zones you travel through; Camden Town is in Zone 2 so your Travelcard must include Zone 2.
Bus Passes:
These allow you to travel in the entire London bus network as many times as you wish for the period your Pass is valid for. You can buy them to put on your Oyster Card at tube stations.
Any Travelcard automatically includes a Bus Pass that is valid on the buses in all zones. For example, if you get zones 1 & 2 Travelcard you can travel freely on the Tube within zones 1 and 2, but you can also take the bus freely in any zone up to zone 6 without paying extra.
Further sources of information
Education UK (www.educationuk.org) has lots of documents to help you prepare for your study in the
UK, including:
First steps guidance note – preparing for entry clearance
First steps – A pre-departure guide for international students coming to study in the UK
Studying and Living in the UK Guide
Sources of funding for international students
Safety first – A personal safety guide for international students
The Council for International Education also has an excellent website giving information about all aspects of life in the UK. The website is www.ukcisa.org.uk.
About TopUp Learning London (Tti)
Letter from the CEO/ Principal
Dear Student,
Welcome to TopUp Learning London (Tti)!
We are celebrating 22 years in Camden Town in 2021 and I am very proud to be part of the TopUp Learning London (Tti) team as we continue to develop! We are a medium sized school here in Camden Town that truly does become "home" for our International students.
Let us tell you a little bit about TopUp Learning London (Tti) and its vision. We want to be your first choice for high quality, affordable language training. We have created a friendly, approachable culture within the school to make it easy for you to settle in quickly and feel at home. We value your custom and we are committed to providing a practical, flexible and reliable service. We believe in continuous improvement: we listen to you and value your feedback, using your comments to help us improve our services at every level.
It is our role to maintain high academic standards and we expect you to progress during your stay with us. Our classes are designed to present and practise language in relevant contexts and to produce good results. Our levels are based on the Common European Framework (CEF) system, which is recognised all over the world.
TopUp Learning London (Tti)'s teaching methodology follows the 'Communicative Method'. We believe that you should experience every aspect of learning English. During your course you will have a balanced input of the reading, writing, listening and speaking skills as well as grammar, vocabulary and pronunciation. Each week can stand alone because new students can start any Monday, but they build into a coherent progression of topics for long-term students. The teachers are all experienced in teaching this kind of class, and you will find that it keeps lessons fresh and motivating.
Our teachers are qualified and experienced English language teachers, and we support their ongoing professional development. They are always ready to help you with your studies, and you can also always visit me in the main office.
We are sure you will have a wonderful time here with us and that when you return home, not only will your English impress your friends, but you will have made new friends from many different countries and you will have the ability to communicate with them in English!
Enjoy your stay.
Dr Sam Malafeh
Principal
TopUp Learning London (Tti)'s History
TopUp Learning London (Tti) School of English was founded in 1999 by Bridie O'Reilly and Guy Rose, as an offshoot of their teacher training academy in Kensington – hence the old name Teacher Training International. This changed to Tti School of English when they decided to focus exclusively on English lessons for overseas students. Their vision was to use their long experience in education and their talent for design and creating inviting social spaces to produce a school that combines high quality education with a caring, sociable community where students can feel home from home. In the last 20 years TopUp Learning London (Tti) has become known in the industry for high-quality, innovative new courses and it's friendly, relaxed study environment. The name was changed to TopUp Learning London following the acquisition by TopUp Learning in late 2020.
In 2016, TopUp Learning London (Tti) School of English renewed its British Council accreditation.
Quick facts about the school
Address
148-150 Camden High Street, London, NW1 0NE, UK
Telephone
+44 (0) 207 419 2300
Fax
+44 (0) 207 428 0976
E-mail
info.london@topuplearning.com
Website
www.ttischool.com
Year of foundation
1999
Directors
Dr Sam Malafeh
Number of students
100-300
Minimum age

16 yrs for majority of courses.

TopUp Learning London (Tti) offers classes to those aged 16 and 17 years old. Please contact our Reception team (info.london@topuplearning.com) for details regarding Safeguarding young learners.

Average age
25 yrs
Number of classrooms
7
Maximum class sizes
15 for General English, 12 for exam preparation courses and 30+ courses
Online lessons are offered through TopUp Leaning's online site: www.topuplearning.com
Nationality profile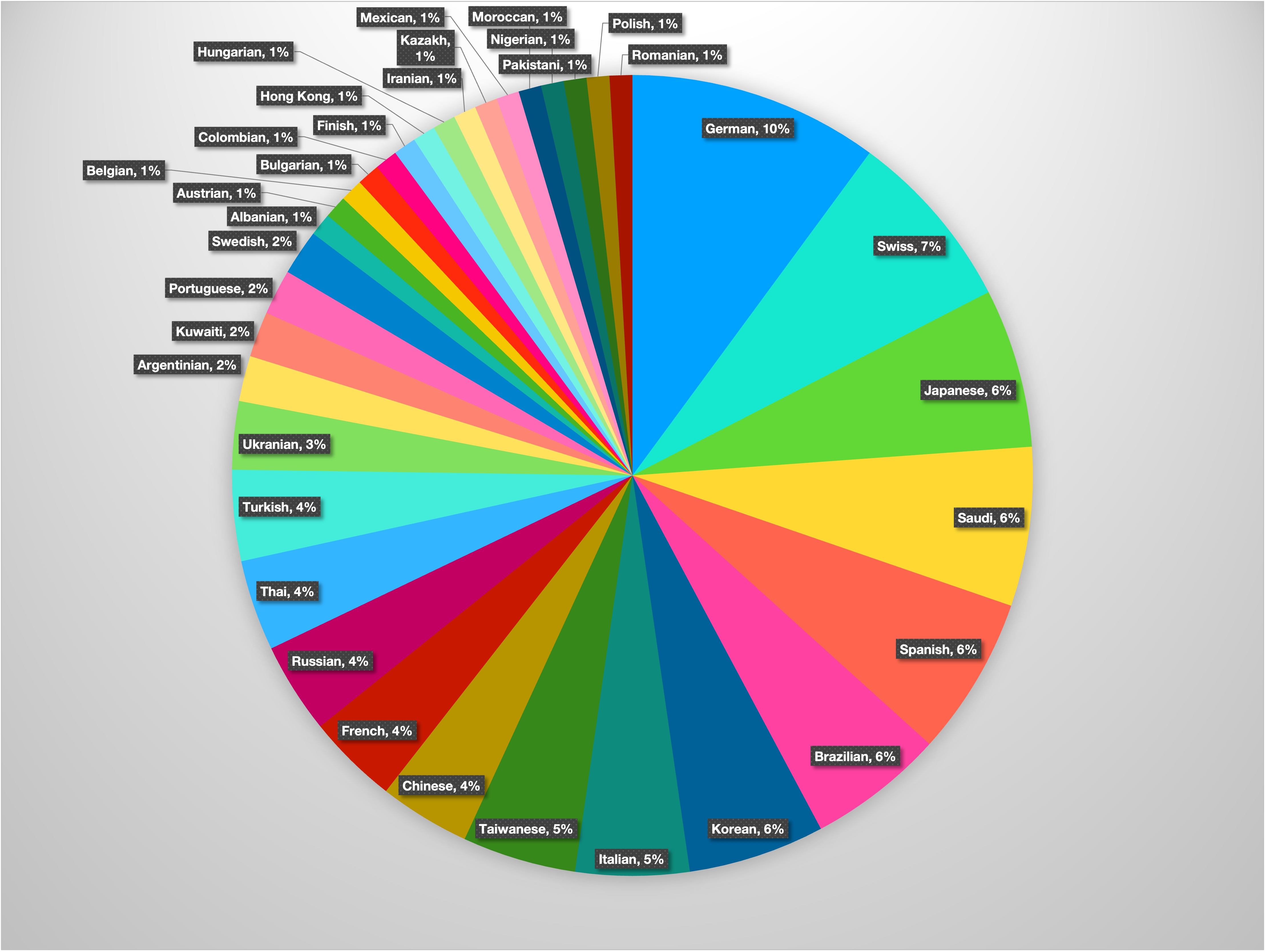 Proportions may fluctuate, but the school generally maintains a healthy balance of nationalities.
The chart shows the average profile for August 2022
Office hours
| | |
| --- | --- |
| Monday, Wednesday, and Friday | 8.30 a.m. to 5.30 p.m. |
| Tuesday and Thursday | 8.30 a.m. to 7.30 p.m. |
| Saturday, Sunday: | Closed |
| Bank Holidays | Closed |
School Holidays (matching UK bank holidays)
Upcoming bank holidays in England and Wales
https://www.gov.uk/bank-holidays
Bank holidays in England 2023
2 January
Monday
New Year's Day (substitute day)
7 April
Friday
Good Friday
10 April
Monday
Easter Monday
1 May
Monday
Early May bank holiday
29 May
Monday
Spring bank holiday
28 August
Monday
Summer bank holiday
25 December
Monday
Christmas Day
26 December
Monday
Boxing Day
We offer make up classes for any lesson missed during bank holidays.
Timetable

**Each lesson is 50 minutes
An example of how you can design a 25 lesson study week at TopUp Learning London:
General English (9:00-11:50am) 15 lessons + Option 1 (12:30-1:20pm) 5 lessons + Option 2 (1:30-2:20pm) 5 lessons
How to pay
TopUp Learning London (Tti) School of English has partnered with Flywire to make your international payments to us for your course and accommodation fees safe and easy. Flywire allows you to pay securely from any country and any bank, generally in your home currency. By making your payment with Flywire you can:
Track your payments from start to finish
Save on bank fees and exchange rates
Contact Flywire's multilingual customer support team with any questions day or night.
Click here https://www.flywire.com/pay/ttischool to make your payment and learn more.
Other payment options
TopUp Learning London (Tti) School of English is also happy to accept payments by the following methods:
Bank transfer:
Teacher Training International Ltd
Barclays Bank Islington Branch
PO Box 3474
London NW1 7NQ
Sort code: 20 44 91
Account No: 13005305
IBAN : GB48BUKB20449113005305
SWIFT BIK: BUKBGB22
Please remember to send us a copy or confirmation of bank transfer to info.london@topuplearning.com once the payment has been made, and add £15.00 to the total amount for bank charges
Credit or debit card – over the phone or email. Please remember that credit cards and international debit cards will be subject to a 2% card handling fee.
Cash
TopUp Learning London (Tti) Accommodation
The accommodation options we can offer our students at TopUp Learning London (Tti) year-round are listed below:
Axo Islington – Hall of Residence-Single Room with private bathroom
Axo Islington is a university hall of residence located in Holloway Road, north London. A pleasant area with good local facilities such as local shops, cafes and bars. There are regular bus services to Camden Town, and Central London. £310 per week
Axo Opera House – Bronze Studio
AXO Opera House offers luxury accommodation for students in London with a great location and excellent facilities. Only 9 minutes' walk from Tottenham Hale Train Station and Underground where the Victoria Line can take you across the city in just a few minutes, getting around the city will be a breeze, while the immediate neighbourhood offers plenty of chances to shop, eat and take in the nightlife.
StayClub Camden
The Stay Club Camden is located in the heart of Camden to accommodate both your lifestyle as well as your commutes to university. Purposefully designed to maintain a relaxed and quiet feel in the interior, its central location boasts quick and easy access to everything you may need during your time in London.
Homestay
All our host families have been carefully selected for quality of accommodation and welcoming character. Some are within walking distance of the school and most are situated in Zones 2, 3 and 4. We inspect our families on a regular basis and do our best to match students with just the right family to make their stay in London a happy one!
A £60 accommodation finding fee is charged on all bookings.
Accommodation is arranged with Sunday arrival and Saturday departure as standard.
Extra nights, subject to availability, are charged at £55 per night.
Introducing the staff
London Student Support and Services Team:
Wei Lin – wei.lin@topuplearning.com
Estela Dumitru – admin.london@topuplearning.com
Sumant Shrestha – sumant.shrestha@topuplearning.com
They are here to help with any questions you have about your stay!
You can find photos of our support and teachers on the website: ww.ttischool.com and on the noticeboard outside reception too.
Your first day at TopUp Learning London (Tti) School of English
Welcome to TopUp Learning London (Tti)!
It is not long now until you arrive in London. Thank you for choosing to come and study with us. We are all very much looking forward to welcoming you into our TopUp family. We are sure you will have an excellent time and learn a lot of very useful English.
Pre-Arrival Information
We have an online test for you to take to assess your English level. You can follow the link: https://ttischool.com/learn-english-in-london/level-check-test to complete this online. We prefer you to complete the test before you arrive at school. However, if you can't, you can do this on your first day at school. The test is to find out which class we should place you in.
If you have booked airport pick up service with us, please share your flight information with us as soon as your flight is booked. Our driver will be at the destinated pickup point 1.5 hours from the time when the plane is landed, so you don't need to rush to go through immigration and custom clearance. Our driver will hold a board with your name on it. Following are our pickup points for various airports:
Heathrow T2 Boots T3 Boots T4 Whsmith T5 Costa Coffee
Stansted Costa Coffee
Luton Express Pick Up & Drop off in Mid Stay car park
Gatwick North Costa Coffee South Costa Coffee
If you have booked Student Residence accommodation with us, please share your estimated arrival time at the accommodation with us, so that we can inform the accommodation provider of your arrival time. Most of our student residences have 24/7 check-in services and you will be received even if you arrive quite early in the morning or quite late in the evening.
For students with homestay accommodation, you can directly contact the homestay for your arrival time. Alternatively, feel free to share your arrival date and time with us if you want us to inform your host.
Please contact our school's 24/7 emergency services if you face any difficulty on your arrival. You can reach us @ +447899677528 or +447391035823, and both numbers are reachable on what's App as well.
Your First Day
8:45am-9:00am New students arrive at school, for a small face to face interview with your teacher and Health & Safety Briefings

9:00am Start of your first lesson

10:40am-11:00am Meet our Principal, Director of Studies, School Registrar and Social Programme Organiser, Induction on School Policy and small campus tour (You can find all our school policies online from https://ttischool.com/learn-english-in-london/policy/)

Feel free to enjoy free coffee, tea, snacks, and fresh fruit during your study breaks

11:50am- 12:30pm Lunch Break and introduce yourself to your classmates!
12:30pm Start of your afternoon lesson

2:30pm Guided Tour of Camden Town, our school neighborhood to find out where are the nearest stations, convenience shops, Camden Town Market and many more! Note: Please bring something to write with, your passport, your visa (if you have a student visa) and insurance. If you are staying in a homestay, your homestay will give you some lunch on your first day. If not, it would be good to bring something for lunch or some money to buy something.
During Your Studies
Join us for the Social Programme events – don't forget to look at the notice boards to find out what is going on. Robert is the Social Programme Organiser and can answer any question about events. If there is something you would like to do for the Social Programme one week, please tell James.

Improve your level by joining the Optional Module Classes to improve your fluency and confidence speaking English. The Optional Module classes are held everyday from 12:30pm- 1:20pm and 1:30pm to 2:20pm. You can join for just one week or for longer. Come to the office to find out about prices and book a place.

Don't hesitate to come and talk to the Principal or Director of Studies if you have any questions or problems at all.

Check our website for photos and news from our teaching and administration teams. Please follow us on Facebook, Twitter and Instagram! You can tag the school in the pictures that you take during our Social Programme activities.


We welcome feedback on your course and time at Tti. All of us will take very good care of you and make sure you soon feel at home. We look forward to seeing you soon.

Techniques for managing your vocabulary notes
Using a word in a natural context:
Record new vocabulary in realistic sentences to help you remember the meaning, as in this example with the word studious – The new student impressed her classmates because she was very studious and worked hard every day after class.
Word maps or webs
When you learn new vocabulary you must decide what it means to know that word. Look at the ideas below and put them in order of importance for you. This can also focus your mind and help you think about ways of remembering it.
to understand it when it is written or spoken
to recall it when you need it
to use it with the correct meaning
to use it in a grammatically correct way
to know which other words it collocates with
to spell it correctly
to use it in the right situation
to know if it has positive or negative connotations
Translation
Be careful with translation, as often individual words do not line up perfectly. Translating phrases in terms of what is natural to say rather than a word for word translation is the best method –
What does ___________ mean?
Was bedeutet ___________? / Que significa _____________?
Word building
| | | | | | |
| --- | --- | --- | --- | --- | --- |
| verb | prefix/suffix | adjective | synonym | antonym | collocation / idiom, phrase |
| to be happy | unhappy happiness | happy | pleased, glad | unhappy, sad | to be happy as Larry |
Topic groups
Put all the words from the same topic together, and maybe write a story using as many of the new words as possible.
to wear to try on, to take off, to match, to fit, to suit
a pair of: trousers, gloves, pants, shoes
a top, a jacket,
wool, leather, trendy, second hand, frayed
Story: I went to Camden Market the other day and saw a pair of wool trousers that were trendy, I wanted to try them on but …
Draw a picture to illustrate the story, to help set it in your memory.
Novels (upper-intermediate to advanced) and graded readers (all levels)
Take a book home for the weekend. To get the best out of reading:
Choose a book that you have read in your own language, or if you want to practice listening, chose a book that comes with a CD.
Try to read (and listen) without using a dictionary; guess the meaning of unknown words from the context.
At the end of each chapter, go back and note down any new or interesting vocabulary and store the new words in your vocabulary book.
Once you have finished the book, try to write a short review of the book.
Talk to people (all levels)
Try to speak English whenever and wherever you can! When you go shopping, try to get the shop assistants to discuss the products with you. Go to social programme activities and make friends with students from other countries to avoid using your mother tongue.
Remember: 'if you don't use it, you'll lose it!'
Monitoring your progress
In your first one or two weeks, your teacher will have a tutorial with you. They will speak to you about how you feel about your course and accommodation, and discuss your strengths and weaknesses too. This is a time for you to talk to your teacher about any problems you may be having and to ask any questions. If you are here for a longer course, you will then be given a tutorial every four to six weeks.
Procedure for moving to a higher level
To move up to a higher level you must pass a level test. When your teacher thinks you are ready, they will suggest that you take the test. These are based on material that is carefully graded and harmonised with the Common European Framework. You can take the test on Wednesday after your last lesson, and we will let you know by Friday whether you can move to the higher class.
Weekly course plans
Your teacher will create a plan for the week and will put it on the classroom wall to help you review previous lessons and so that you will know what you are going to study next. Please refer to it. If you have any questions please ask your teacher to clarify. At the bottom of each plan, there is a box which clearly states your learning outcomes for the week.
Beyond "General English"
Your core General English class improves your overall level of English, but you may want to consider making your studies more intensive or, at higher levels, more specific. The following sections describe the possibilities offered by TopUp Learning London (Tti) School.
Module Lessons
From 12:30pm to 1:20pm and 1:30pm to 2:20pm each day there are classes with a specific focus. These are designed to be taken in combination with a General English course. You can add option classes at any time for as little as one week, so why not try them?
For lower level students, we offer modules that aid with conversation, vocabulary, and pronunciation. These modules give you more opportunities to practise your English with a wider range of students and materials.
For higher level students, we offer more specific modules. These are on themes such as conversation and pronunciation, vocabulary and phrasal verbs, business English, and academic English. We change the module themes fairly often, and if you are interested in a particular theme, please ask the Director of Studies.
Individual lessons
Why not personalise your study programme with some individual tuition? If you want to make your course more personal and focus on areas that you find difficult, then individual lessons are for you. They are especially useful if you want to speak to a native speaker and have spoken error correction. During your first lesson, the teacher will discuss with you what you would like to study in class and then design a personalised programme based on this. Individual lessons are a great way to make progress quickly.
Intensive courses
If you want to make your course more intensive, then you can upgrade your course by having extra classes. We offer three intensive programmes of 25, 30 or 35 lessons. These courses are perfect for students who are in the UK for a limited period of time but wish to spend as many hours a day studying as possible.
Evening Courses
Our evening courses are designed for people who work during the day and can only study in the evenings. The courses run on a Monday and Wednesday from 7pm – 9pm. The content of the lessons is based on a negotiated syllabus between the students and teacher. As each class is usually small, the teacher will carry out a needs analysis for each class to ensure that you are covering the topics and skills that you would like to study.
As evening students have busy lives, we understand that you can't always attend every lesson; therefore, the teachers always endeavour to give stand-alone lessons so that you won't need information from a previous lesson to understand the current one.
In your classes you will develop your knowledge of grammar and vocabulary, and practise all the language skills – speaking, listening, reading and writing.
The teachers design their own weekly plans using a wide range of materials from many different course books and resources. They also devise tasks and enjoyable activities to help you become more confident in using English for work and everyday life in the UK.
Exams and Exam preparation courses
To join an exam preparation course you must do a test to check you are at the right level. Here is a short explanation of the exams we can help you prepare for at TopUp Learning London (Tti) School. The IELTS course runs on a continuous enrolment basis in the same way as General English, but the rest have fixed course dates – please refer to the calendar.
Cambridge exams
The Cambridge exams are highly respected around the world. They can be taken by anyone whose first language is not English. They are held throughout the year, with paper-based tests in March, June, July, August and December. The examinations cover the four language skills: listening, speaking, writing and reading, the latter integrated with knowledge of vocabulary and English usage. The exams can improve your chances of getting a job, to do further or higher education in English speaking countries (C1 Advanced and CPE), to prepare yourself to travel or live abroad, or just to give you a set of personal goals for improving your English. They are suitable for learners of all nationalities and almost any age. For more information about the exams see www.cambridge-esol.org.
The school can enrol you for the exams at an exam centre in London.
The exam registration fee is not included in the course fees.
Speaking tests are held during a 3-week period, usually before the written exam. Full timetables are issued 3 weeks before the exam. Any applications for "special arrangements" for candidates with special needs must also be received with the registrations by the closing date. (For example learning or hearing difficulties). An additional fee of £25 applies to late registrations.
Details for the B2 First and C1 Advanced preparation courses at TopUp Learning London (Tti) School:
TopUp Learning London (Tti) offers separate group preparation courses for B2 First and C1 Advanced. (If you wish to prepare for one of the other exams, we can offer you preparation in one-to-one lessons.)
A pre-test and grammar test are sent out prior to starting the course to ensure the student has the appropriate level.
The maximum number of students in the class is 12.
The textbook for the course is included in the course fees.
If a student who enrols for the C1 Advanced course fails the level test / pre-test on arrival, they will be offered a place on the B2 First course instead. Conversely, a student who enrols for the B2 First course may be recommended to join the C1 Advanced course based on performance on arrival. If a student who enrols for the B2 First course fails the level test on arrival or fails to keep up with the course, they will be offered a place on a General English course instead.
IELTS – International English Language Testing System
IELTS is designed to assess the language ability of candidates who need to study or work in English. It is used as an admissions requirement by universities in Australia, New Zealand, Canada, the UK and increasingly in the USA. It is also recognised by a variety of official organisations (including some immigration services) and by institutions offering secondary and vocational training. There are 9 bands from Band 1 (non-user) to Band 9 (expert user). The score is valid for 2 years.
TopUp Learning London (Tti) Level
Band

Academic

Courses

E.g., Law,

Medicine

Academic

Courses

E.g., Technology,

Training

Courses

E.g., Air Traffic

Control,

Training

Courses

E.g., Catering,

Int
5.5

English study

needed

English study

needed

English study

needed

Probably

acceptable

Upper-Int/

Int

6.0

English study

needed

English study

needed

Probably

acceptable

Acceptable
Upper-Int
6.5

English study

needed

Probably

acceptable

Acceptable
Acceptable
Advanced/
7.0
Probably
Acceptable
Acceptable
Acceptable
Upper-Int
acceptable
Advanced
7.5 – 9.0
Acceptable
Acceptable
Acceptable
Acceptable
For more information about IELTS see www.ielts.org. At TopUp Learning London (Tti) we can book the exam for you at an authorised IELTS exam centre. To ensure you get a place we recommend you apply 4-8 weeks in advance, particularly in summer. When booking the exam you must provide the following documents:
A completed application form (which can be printed and checked in the office after you have filled it in)
Evidence of identity (passport or national identity card)
In event of a fire
Leave the school by the nearest door or fire exit
Do not stop to collect personal things
Do not return to the building
Go the meeting point outside Lloyds Bank on the corner of Camden High Street and Greenland Street.
In event of a medical emergency
There is a first aid box in the office on the 1st floor and in room 9. There is also one the coffee bar. The school has trained first aiders as required by law. Please report the incident to the office or the Principal. If this is not possible, phone 999 and ask for an ambulance. For details about healthcare in the UK see page 40.
Other school facilities & services
Included in the course fees
Library of textbooks, books, audiobooks, magazines & newspapers
Use of kitchen (microwave, fridge)
Printing (please ask in the office and be aware you cannot save documents such as boarding passes on the school computers, so please bring a USB stick)
Paperwork – school letters for council tax, visa, etc.
Assistance with application forms
Your end of course certificate
Not included in the course fees
External social events e.g. bowling, skating, parties (mostly £8 – £15)
Weekend trips (about £45 to £60)
Public library
There is a public library ten minutes' walk from TopUp Learning London (Tti) School at the Crowndale Centre, near Mornington Crescent Station. To become a member of the public library you will need to take them identification and proof of your address. They may also require you to get an application form stamped by the school. It is free to borrow books from the public library, but there are fines for late return of books. Please be very careful: if you lose a library book you must tell the library, or if you accidentally return home with a book you must post it back to them, because if you don't, collection officers will come to the accommodation where you stayed and demand a large fine!
Wireless LAN (wi-fi)
The school has a wireless LAN Internet connection in both buildings that you are welcome to use, however the school does not guarantee that this service will always be in operation, and cannot provide technical support. You should use appropriate firewall software and virus protection, and use of this service is at your own risk.
TopUp Learning London (Tti)'s E-learning Programme
TopUp Learning London (Tti) offers additional E-Learning support to students linked to what you learn at the school. This is accessible through school website and provide you with more practice.
Printing
If you need to print something (e.g. your CV, some homework, an e-ticket, or an application form) please forward it by e-mail to info.london@t.com with a request for it to be printed, and then come to the office to pick up your prints. There is no charge for small print jobs.
TopUp Learning London (Tti) student cards
We will make a student card for you on your first day. Please pick it up from the office after 4pm your first day. You can use your student card to get student discounts in some cinemas, shops, and tourist attractions. Unfortunately, it does not give you a discount on London transport.
Opening a bank account
If you walk into a bank and ask to open an account they will ask you for proof of your address – usually a utility bill in your name and UK address. This is not possible for newly arrived students. However, we can help you by providing a bank letter confirming your student status. Log in to your e-learning and request a bank letter or come to the Reception and speak to a member of the team.
Social programme
TopUp Learning London (Tti) School has a packed programme of social activities to help you enjoy your stay in London. Activities are optional but recommended! It provides the opportunity to meet and make friends with other students and teachers whilst practising your English in real situations. As well as our scheduled activities, our Social Programme Organiser(s) can make suggestions for other interesting things to do in London.
What are the activities?
Here are some typical activities on weekdays (Monday to Friday):
Film night
International food evening/picnic
Museum & gallery visits
Thames river cruise
Quiz night
Walking tours
Pub of the Month
Karaoke
Skating
Park visits
Theatre
Musicals
On Saturdays and Sundays you can take day-trips to famous places such as Oxford, Stonehenge & Bath, Brighton and Cambridge with a reputable tour company Lil Adventures. These can be booked in Reception.
As well as the suggested trip on our social programme you can see the other available Lil Adventures Tours on their website www.liladventures.com. Please get your ticket a few days in advance in case the tour sells out. These tours leave early in the morning and return to London in the evening.
You can pick up a programme for the current month at the school.
Cost of activities
The organisation of the activities is included in your course fees so in-house activities such as quizzes and films are free of charge. You will need to pay your own transport and entry or expenses for external activities such as musicals and parties.
Safety on Social Programme activities
We would like to remind you that you are responsible for your own safety on all activities outside the school. Risk Assessments are in place and the teachers are aware of these and will explain any risks to the group prior to leaving the school. For all trips, please take extra care crossing roads when you are walking with a group of people. On your way to an external activity please take note of how to get back home (the teacher leading the activity can help you). Please see the section on general safety in London on our website.
Things to do in Camden
A few suggestions from our social programme organiser:
Soak up the multicultural atmosphere in Camden Lock, have a walk around the market and take some photos of the punks!
Have a cheap and cheerful meal in one of the great pubs near the market or choose from Italian, Thai, or Indian food inside the market. An average meal is a bargain at £8 – £15!
For party animals: go and listen to up and coming bands and dance the night away at The Barfly on Chalk Farm Road or the Dublin Castle on Parkway or Koko on Mornington Crescent. There are gigs every night, but Friday and Saturday are the best.
Lovers of more mellow music should try the Jazz Café just one minute from TopUp Learning London (Tti), where you can hear world-class Jazz, world music, R&B, soul, etc. There is also the Green Note, a small live club further up Parkway on the right-hand side.
Is your country missing any cultural treasures? Come and see them at the British Museum! We're just a 15-minute bus ride (or a 30 minute walk for energetic people) from one of the world's finest collections, and entrance is entirely free. There are lots of interesting special exhibitions throughout the year, such as Tutankhamen and the Terracotta Army, though you have to pay and book in advance for special exhibitions.
Go to either Hampstead or Highgate Villages (either is just a short bus ride away). Lose yourself around the little cobbled streets that are reminiscent of Victorian London. There are so many great shops and cafes to explore, you can easily spend the whole afternoon just walking around.
Take a canal cruise along Regents Canal. There are boat trips that travel between Camden Lock and Little Venice. It's an original and sedate way to see the waterways that used to be the main transport network of England, and you can admire the beautifully decorated "narrow boats".
Get some fresh air! Regents Park is just a ten-minute walk away and it is perfect for a bit of football, cricket, Frisbee, or whatever your sport. Alternatively, get the bus to Hampstead Heath and walk to the top of Kite Hill from which you can see the whole of London – the perfect place for a picnic and a great photo opportunity.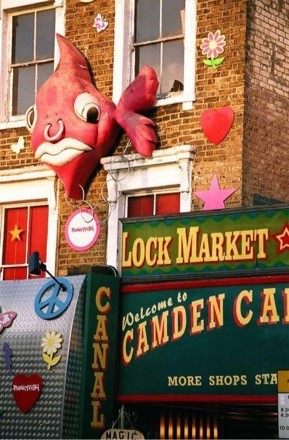 Restaurant suggestions
We have many cafes, restaurants and takeaways on our doorstep in Camden, to suit almost any budget.
Here are some of our favourites:
Asakusa,

Japanese restaurant

265, Eversholt St, NW1 1BA

Tel: 020 7388 8533

Very authentic and tasty, popular with Japanese residents of

London, but economically priced– you'll have to book ahead to

be sure of a table!

Jamon Jamon, Spanish

tapas bar

38, Parkway NW1 7AH

Tel: 020 7284 0606

Great atmosphere, friendly service – we recommend the tortilla

rellena and the pimientos del piquillo! Mid priced. Cheaper at lunchtime.

The Edinboro Castle

57 Mornington Terrace, London

NW1 7RU

Good British pub meals. Mid priced. Great garden for

summertime!

Wagamama,

Japanese noodle bar

11 Jamestown Road, NW1 7BW

Tel. 0207 428 0800

Restaurants are modelled on the ramen bars which have been popular in Japan for many years and dishes are delivered to the table as soon as they're cooked.
Nightlife – Where to party in Camden
All of these clubs are just a short walk from TopUp Learning London (Tti) School:
Camden Jazz Café

5 Parkway, NW1 7PG

www.jazzcafe.co.uk

Top jazz acts from around the world every night. Upscale restaurant upstairs and standing room on the floor

Electric Ballroom

(nightclub)

184, Camden High St, NW1 8QP,
In the past decades Sid Vicious, Madness, The Clash, George Thorogood and the Smiths have drawn huge crowds to the venue.

Green Note

(live music café)

106 Parkway, NW1 7AN

020 7485 9899

Little club with a mouth-watering list of top quality acoustic acts, charming atmosphere and good food.

Koko

(nightclub)

Temporarily Closed

1A Camden High Street, NW1 7JE

Beautiful Victorian theatre renovated as a nightclub. Madonna, Eurythmics, Boy George, Wham and Prince are a few of the world's best acts to have played here.
The Cuban

Stables Market, NW1 8AH

http://www.thecuban.co.uk

Great Latin bar with a good variety of food and cocktails. Salsa lessons on Thursdays.
The Dublin Castle

94 Parkway, NW1 7AN

www.thedublincastle.com

Trendy pub which attracts celebrities such as Kate Moss and Amy Winehouse – there is a small back room which is great for seeing new bands and dancing.
At the end of your course
Certificates
At the end of your course you will get a certificate that shows details of the course you studied and the level of the class at which you finished your course. (You must spend at least one week in a class in order to get a certificate for that level.) You can collect your certificate from the office after your last lesson.
Please note, students must have a minimum of 80% attendance overall to receive a certificate.
If you want your name to appear with any special characters that are not part of the usual English alphabet, please explain this to the registrars before your last day.
End of course feedback
Together with your certificate we will ask you to fill in a feedback questionnaire. You can access this through your e-learning account. Please take a little time to give us useful feedback that will help us to continuously improve the school. We are also grateful for any positive comments about the school that we could put on our website.
Ways to keep up your English after your course + E-learning
There are plenty of ways that you can use the English you have learned. Here are some ideas for how you keep your English skills fresh:
Use TopUp Learning London (Tti) e-learning programme. This service is a way of ensuring you can keep on improving all your skills. You can set up a study plan for weekly input as well as looking at new discussion points every week. Remember you can practise listening, reading and writing. To access the site:

Go to your online learning account at: topuplearning.com
Then log in and select self-study course
Listen to English language learning programmes online, such as bbc.co.uk/worldservice/learningenglish. You can set yourself tasks to do while listening:

Think about how many stories there are, and what type of stories they are e.g. political, financial, sport etc.
What key words can you hear? What word partnerships are in the story? E.g. elect a president / a price rise.
Can you find the same story in a newspaper and is it reported differently?
Read English news and stories on the BBC website.
bbc.co.uk/worldservice. You can set yourself tasks to do while reading:

Write down all the new vocabulary you meet and check the meaning from your English to English dictionary (there are also plenty of online dictionaries, go to Google and put in 'English dictionary' – Macmillan and Oxford are very student-friendly)
Take notes as you read, trying NOT to use the same vocabulary as in the story, and then re-write the story
Record yourself reading the story out loud and see how it sounds
Do a language exchange – visit your local British Council or library to see if you can join or form a conversation group with other speakers of English. A modern equivalent to this is social networking websites such as www.kantalk.com. (Note, if you are under 18 you must get your parent's approval for this.)
Subscribe to an English language newspaper or magazine.
Visit the TopUp Learning London (Tti) website. The news page will tell you what is happening at TopUp Learning London (Tti).

Keep in touch through Facebook, Instagram, TopUp Learning London (Tti)'s blog and Twitter.
Send e-mails in English to the new friends you have met at TopUp Learning London (Tti) School. We love to hear news from former students too – keep in touch via info.london@topuplearning.com.
British Council accreditation
TopUp Learning London (Tti) School is fully accredited under the British Council's English in Britain accreditation scheme.
What does British Council accreditation mean?
The British Council's English in Britain Accreditation Scheme confers a visible and explicit commitment to meeting and maintaining quality standards of English language provision. There are regular opportunities for improvement in services through frequent inspections and through sharing of best practice. Accreditation UK is approved by the Border and Immigration Agency for the purpose of sponsorship under the Points Based System. It benefits the students primarily by assuring them that the level of service meets the standards set by the British Council. In particular:
Appropriately qualified teachers
Teaching which meets high standards
Accommodation, including homestays, which are regularly inspected and meets high standards
Safe premises, with properly equipped classrooms and areas for relaxation
Brochures and publicity materials which accurately reflect what is provided
Proper emergency procedures, known to staff and students.
Students can get redress through an established complaints procedure if these standards are not met. For more details about British Council accreditation please see www.britishcouncil.org/accreditation-what-we-check.pdf
Life in London
Useful telephone numbers and addresses
General
Please tell us if you find out that any of these details are inaccurate or have changed. Thank you!
| | | |
| --- | --- | --- |
| Emergency (Ambulance, Fire, Police) | 999 | |
| TopUp Learning London (Tti) School of English | 020 7419 2300 | 148-150 Camden High Street, NW1 0NE |
| TopUp Learning London (Tti) Weekend Emergency number | 07899 677528 | |
| NHS Camden (call to register with a doctor more permanently) Crowndale Health Centre (call if you need to see a nurse soon) | 020 3317 3500 | St Pancras Hospital, 4 St Pancras Way, NW1 0NE |
| Gatwick Airport | 0344 892 0322 | |
| Heathrow Airport | 0844 335 1801 | |
| Job Centre | 0845 6060 234 | 97-99 Camden High Street, NW1 0NE |
| Library | 020 7974 4001 | Camden Town Library, Crowndale Centre , 218 Eversholt Street, NW1 1BD |
| London Tourist Information | 020 7932 2000 | |
| London Transport | 020 7222 1234 | |
| Luton Airport | 01582 405 100 | |
| National Express (Coaches) | 0870 5 80 80 80 | |
| National Rail Enquiries (Trains) | 0845 7484950 | |
| NHS Direct (Health Service Information) | 0845 4647 | |
| Overseas Visitors Records Office (Police registration) | 020 7230 1208 | Ground Floor, Brandon House, 180 Borough High Street, SE1 1LH |
| Royal Free Hospital | 020 7794 0500 | Entrances on Pond Street and Haverstock Hill, NW3 2QG |
| Stansted Airport | 0844 335 1803 | |
| The Home Office (visa application enquiries) | 0870 606 7766 | Immigration and Nationality Directorate, Lunar House, 40 Wellesley Road, Croydon, Surrey CR9 2BY |
| Victim Support | 0845 450 3936 | Scotia House, 33 Finsbury Square, EC2A 1PL |
Sports centres, leisure centres, and gyms
Cally Swimming Pool
020 7278 4676
229
Caledonian Road, Islington N1 0NH
Fitness First Camden
0844 5712833
128
Albert Street, NW1 7NE
Soho Gyms
020 7482 4524
193 Camden High Street, NW1 7JY
Islington Boat Club
020 7253 0778
16-34 Graham street, N1 8JX
Islington Tennis Centre
020 7700 1370
Market Road, N7 9LP
Kentish Town Sports Centre
020 7974 7000
Grafton Road NW5 3DU
Skateboarding and Rollerblading
020 7974 1693
212
Camden Rd, London NW1 9HG
Sobell Leisure Centre
020 7609 2166
Hornsey Road, N7 7NY
The Circus Space
020 7613 4141
Coronet Street, Old Street, N1 6HD
Places of worship
Mosque
London Central Mosque/ The Islamic Cultural Centre,
Regents Park, 146 Park Road, London. Tel: 020 7724 3363, www.iccuk.org
Synagogue
South Hampstead Synagogue: http://www.southhampstead.org/
Central Synagogue, 36-40 Hallam Street, W1W 6NW, phone: 020 7580 1355
Buddhist Temple
Heruka Centre, 13 Woodstock Road, Golders Green NW11 8ES
Hindu Temple
Hindu Centre London, 39 Grafton Terrace, NW5 4JA. Tel. 020 7485 8200
Roman Catholic Church
Our Lady of Hal,165 Arlington Road, NW1 7EX. Tel: 020 7485 2727
Anglican Church
St Michael's, Camden Road, NW1 9LQ, T 020 7485 5791
Greek Orthodox Church
All Saints Greek Orthodox Church, Camden Street, NW1 0JA. Tel: 020 7485 2149
Foreign embassies in the UK
Country:
Algeria
Telephone:
020 7589 6885
Address:
6 Hyde Park Gate, London SW7 5EW
Angola
020 7299 9850
22 Dorset Street, London, W1U 6QY
Argentina
Austria
020 7318 1300
020 7344 3250
65 Brook Street, London, W1K 4AH
18 Belgrave Mews West, London, SW1X 8HU
Bolivia
020 7235 4248
106 Eaton Square, London, SW1W 9AD
Brazil
020 7747 4500
16 Cockspur St, London SW1Y 5BL
Bulgaria
020 7581 3144
186-188 Queens Gate, London, SW7 5HL
Chile
020 7222 2361
37-41 Old Queen Street, London SW1H 9JA
China (P.R.)
020 7299 4049
49-51 Portland Place, London, W1B 1JL
Colombia
020 7589 9177
3 Hans Crescent, London, SW1X 0LN
Czech Republic
020 7243 1115
26-30 Kensington Palace Gardens, London, W8 4QY
France
020 7073 1000
58 Knightsbridge, London, SW1X 7JT
Gabon
020 7823 9986
27 Elvaston Place, London, SW7 5NL
Germany
020 7824 1300
23 Belgrave Square, 1-6 Chesham Place, London, SW1X 8PZ
Hungary
020 7201 3440
35 Eaton Place, London, SW1X 8BY
Ireland
020 7235 2171
17 Grosvenor Place, London, SW1X 7HR
Italy
020 7312 2200
14 Three Kings Yard, Davies St, London, W1K 4EH
Japan
020 7465 6500
101-104 Piccadilly, London, W1J 7JT
Korea (South)
020 7227 5500
60 Buckingham Gate, London, SW1E 6AJ
Libya
020 7201 8280
15 Knightsbridge, London, SW1X 7LY
Malaysia
020 7235 8033
45 Belgrave Square, London, SW1X 8QT
Mexico
Peru
020 7499 8586
020 7235 1917
16 ST.George Street, London, W1S 1FD
52 Sloane Street, London, SW1X 9SP
Poland
020 7580 4324
47 Portland Place, London, W1B 1JH
Portugal
Russia
020 7235 5331
020 7229 6412
11 Belgrave Square, London, SW1X 8PP
6/7 Kensington Palace Gardens, London, W8 4QP
Slovak
020 7313 6470
25 Kensington Palace Gardens, London, W8 4QY
Spain
Sweden
020 7235 5555
020 7917 6400
39 Chesham Pl, London SW1X 8SB
11 Montagu Place, London, W1H 2AL
Switzerland
020 7616 6000
16/18 Montague Place, London, W1H 2BQ
Thailand
020 7589 2944
29-30 Queen's Gate, London, SW7 5JA
Turkey
020 7393 0202
43 Belgrave Square, London, SW1X 8PA
Venezuela
020 7387 6727
56 Grafton Way, London W1T 5DL
Can I get free healthcare in the UK?
You can find full details about who can get NHS (National Health Service) treatment at www.nhs.uk (search on the web site for 'overseas visitors'). You should check the details for your situation as the following information is only a guideline.
In general, you should be able to get some free healthcare if you are:
on a full-time course in the UK for 6 months or more
from a European country (you should have a European Health Insurance Card (EHIC) please check the following link: http://www.nhs.uk/NHSEngland/Healthcareabroad/EHIC/Pages/about-the-ehic.aspx)
from a country with a healthcare agreement with the UK.
Registering with a doctor (GP) – Do this before you get ill!
In the UK, in all cases except emergencies, you will first see a type of doctor called a "GP" (which is short for "General Practitioner"). These highly qualified non-specialist doctors do not usually work in hospitals: the place where they see patients is called a "doctor's surgery". If you need specialist treatment the GP will then refer you to a "specialist", who will probably work at a hospital. You have to register with a GP in the area where you live. You can search for local doctors using your postcode at www.nhs.co.uk or you can get a list from the post office or your Local Health Authority. For those living in the Camden area, the office has a list of doctors in postal area NW1.
You should telephone and ask to register.
If you find that the GPs in your area are not registering new patients, you should call your Local Health Authority (see list of numbers below).
When you go to register, take your passport and proof of your TopUp Learning London (Tti) enrolment. If you have it, a proof of your address would be very helpful.
Ask to be registered as an NHS patient if possible (it will be more expensive to register as a "private patient".
Once you are registered, you will be sent a medical card with an NHS number.
Visits to the doctor for NHS patients are free but you will have to pay for any medicine the doctor prescribes.
If you have any questions or if you need help registering with a doctor, please come and speak to the registrars in the office. Stay well!
What shall I do if I need to see a doctor urgently?
If you need to see a doctor and can't get an appointment to register with a GP soon enough, you can go to an NHS walk-in health centre. You don't need to make an appointment, but you will probably have to wait a long time to be seen.
You can find a list of walk-in centres at www.nhs.uk (click "more services" and then in "Most popular services" select "A&E minor injury units walk-in centres").
The nearest centre to TopUp Learning London (Tti) School is:
Soho NHS Walk-in Centre, 1 Frith Street, London, W1D 3HZ. Tel. 020 7534 6500. Opening hours: Monday to Friday 8.00 a.m. to 8.00 p.m.
Weekends and Bank Holidays (excluding Christmas Day) 10.00 a.m. to 8.00 p.m.
In an emergency you should go to 'Accident and Emergency' ('A&E') or 'Casualty' at any hospital without an appointment. The nearest hospital to TopUp Learning London (Tti) School is the University College Hospital , 235 Euston Road, NW1 2BU. You can take the Northern Line from Camden Town station to Euston. The telephone number is 020 3456 7890
Some Local Health Authorities in North and Central London and their telephone numbers
NHS Camden: 020 3317 3500
NHS Islington: 020 7527 1000
NHS North Central London: 020 3317 2564
NHS City & Hackney: 020 7739 8455
NHS Enfield: 020 8238 3900
NHS Barnet: 020 8952 2381
Registering with a dentist
You are advised to register with a doctor before registering with a dentist.
A list of dentists who give NHS treatment can be found at www.nhs.uk, or at main post offices.
Make an appointment. Make sure you ask to register as an NHS patient.
You should take your NHS number and ID.
As an NHS patient you pay less, but there is a charge for all dental treatment.
There are few dentists in Camden: 22 Camden High Street (www.camdenhighstreetpractice.co.uk), 22 Camden High Street NW1 0JH (www.camdendentalcare.co.uk) and 86 Parkway are NHS dentists, there is another private practice (www.nw1dentalcare.co.uk) which is located at 92 Camden Road. For more NHS dentists in other areas please visit at www.nhs.co.uk.
Registering with the police
Citizens of the following countries are required to register with the police. You should have had your passport stamped at 'port of entry' saying if you are required to register with the police, but please check this list anyway.
Afghanistan
Cuba
Libya
Sudan
Algeria
Egypt
Moldova
Syria
Argentina
Georgia
Morocco
Tajikistan
Armenia
Iran
North Korea
Tunisia
Azerbaijan
Iraq
Oman
Turkey
Bahrain
Israel
Palestine
Turkmenistan
Belarus
Jordan
Peru
UAE
Bolivia
Kazakhstan
Qatar
Ukraine
Brazil
Kirgizstan
Russia (includes
Uzbekistan
China
Kuwait
Chechnya)
Yemen
Colombia
Lebanon
Saudi Arabia
There is a charge of £34 for registration but no charge for renewal. You will need to inform the police within 7 days of arrival. A police registration certificate is valid for the duration of your visa validity and should be renewed every time you extend your visa. To register please follow this link: https://met.overseasregistrations.uk/Login?ReturnUrl=%2F
Where to register:
Office (OVRO)
323 Borough High Street, Borough, London SE1 1LH Nearest tube: Borough (Northern Line, Bank branch) Tel: 020 7230 1208
Open 9.00 a.m. to 4.00 p.m., Monday to Friday
Accommodation
TopUp Learning London (Tti) accommodation
TopUp Learning London (Tti) accommodation is very popular and sometimes gets fully booked many weeks in advance, but it is also worth asking at the office for last-minute vacancies. For If you ask TopUp Learning London (Tti) to arrange your accommodation booking you will be charged a £60 booking fee.
Finding your own accommodation
If you decide to rent a flat or a room in a shared flat on the open market, please check whether the following are included in your rent:
Gas and electricity bills (as a rough guideline, about £35 per month each)
TV licence (£147 per year)
Council Tax (please note that if you are a full-time student you may be entitled to a council tax exemption)
One month's rent as a damage deposit is normal, sometimes it is 6 weeks
Agency fee of 0.5 or 1 month's rent
A popular place to look for accommodation is www.gumtree.com, however if you don't use an agency you must be very careful. Confidence tricksters have been known to take large deposits for accommodation in advance from several people, then disappear, so don't hand over money until you are sure that the person really is the landlord. It is quite reasonable to ask for proof of the landlord's identity and address. Use a bit of healthy suspicion: if the price seems too good to be true then it probably is! A good way to rent a flat in confidence is to be introduced to a reputable landlord by TopUp Learning London (Tti) students who are already their tenants. Please contact our staff at the school if you have questions or difficulties. You can contact Student Support and Services officers, DoS, or Principal.
Hostels
An alternative to renting is a long-term hostel. For females, a convenient year-round hostel with good long-term rates (self-catering rooms from £131 per week for bookings of 5 weeks or more) is Goldsmiths House, Park Village East, Regents Park, London NW1 3SU, tel. 0207 387 4501 (www.viridianhousing.org.uk). You can also try Belsize Park Hostel, 40 Belsize Park Gardens, London NW3 4NA, tel. 0207 722 8131 (www.lhalondon.com). They have accommodation from £109.50 per week for a dormitory bed with dinner and breakfast.
Finding work in London
Working on a student visa
Under the current regulations if you have a Student Visa (Tier 4) or Short Term Student Visa (STSV) or Visitor Visa and you are enrolled to a General English course you are not allowed to work in UK but just entitled to study. As visa regulations frequently change we strongly advise you to check the UKVI website on a regular basis in order to keep up to date with the latest information that may affect your status in the UK. (www.ukvi.homeoffice.gov.uk)
National Insurance number
If you want to work in the UK you need to have a National Insurance number (National Insurance is the tax that pays for health services and pensions). You can apply for a National Insurance number if you:
Currently looking for a job
have started work
have been offered a job
are self-employed
To make an appointment to get your National Insurance number, you should call Jobcentre Plus on telephone 0845 600 0643 (Monday to Friday, 8:00am to 6:00pm) and give your name, date of birth, passport number, address and employer's details (if you have found a job already). When you go for your appointment you will need to show a valid passport or national identity card and a proof of address; they may ask you to bring other documents. You will receive your number in the post six to eight weeks after your appointment. Do not share your National Insurance number with anyone who does not need it as this might help someone to steal your identity. For further information about NI numbers and tax in the UK see: http://www.hmrc.gov.uk/ni/intro/number.htm. The nearest Jobcentre Plus is at: 97-99 Camden High Street, London, NW1 7JN.
Sources of information for job searches
Evening Standard newspaper: You can buy this newspaper from newsagents and news stands in the street. There is a job supplement on Mondays and job listings Tuesday to Friday. Website: www.londonjobs.co.uk
Camden New Journal free newspaper: You can find this in the dispensers in the same place as TNT.
Metro free newspaper: You can get this free newspaper in the mornings from the dispensers in tube stations.
Safety in London
For many students, this will be the first time you are away from home and in an unfamiliar country. This information is to help you during your stay here and give you practical advice. By international standards the UK is a safe country, with low levels of violence and street crime. Much of the advice is common sense, but it can make a real difference.
Arriving in the UK
In the excitement of arriving in a new country it can be easy to become distracted and lose things – especially as you get on and off planes, trains and buses. Here is some practical advice to help you when you first arrive.
Take special care of your passport, travel documents and tickets and keep them with you in a safe place.
Before you travel, take a photocopy of all the pages of your passport that show your details (name, photo, number and date and place of issue) and any pages with entry stamps and visas.
Don't keep large amounts of cash on you – only enough for your immediate needs, and make sure that you have some small notes and coins.
Bring a credit card and keep it separate from your cash and passport.
Keep the phone number of TopUp Learning London (Tti) Emergency Phone close, put it into your mobile +44 (0)20 7419 2300.
Label your bags clearly with both the school's and your home address.
Always use a licensed taxi: you can check this by looking at the back of the cab to make sure there is an official licence plate. You can also text CAB to 60835 (CABWISE service from
Transport for London) and they will text you the taxi number or 2 local licensed minicab places near your location).
Never agree to travel with someone who approaches you inside the terminal building unless you have made a booking for an airport transfer through TopUp Learning London (Tti) School.
About the police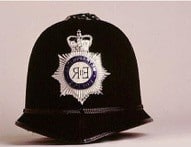 The police in the UK are generally friendly and helpful. They have a duty to protect everyone and can always be safely approached. Some international students have to register their stay. Please ask Reception for guidance.
If you have anything stolen, or if you are attacked, followed or threatened, you can contact the police who will always encourage you to report the incident. Don't worry about language difficulties as the police will find someone, free of charge, who speaks your language. They can also provide a certificate if you need to make an insurance claim for a theft.
In an emergency you can contact the police by calling 999 free. The call is free, can be dialled from landline or mobile, but must ONLY be used in an emergency.
If you want to report a crime, phone or visit your local police station – the nearest police station to TopUp Learning London (Tti) is at 12a Holmes Road, Kentish Town, NW5 3AE, Tel. 020 7388 1212.
Alternatively, call 101 – This is the number for the police for non-urgent calls.
Looking after your personal belongings
Look out for thieves! It is very important that you keep your belongings with you at all times. When you travel, always carry your bag on your lap. Also, when in a public place, never leave your bag unattended. London is a big city and has some very skilful pickpockets. They can see you are a tourist, relaxed on holiday, and this can make you a target.
Do not keep your wallet or passport in the back pocket of your trousers!
Make sure your bag is always zipped up when you are out and about.
When moving into new accommodation, don't leave your stuff outside or in the open boot of the car or taxi. Use an ultraviolet pen to mark your valuables with your name and student ID number. This will help the police return them to you. Make sure that nothing valuable can be seen from the window and don't leave credit cards or cash lying about. Try not to use a computer case when carrying a laptop – use an ordinary bag and think twice before using it in public.
Mobiles phones: Insure your mobile phones! Register it at www.immobilse.com. If it is stolen, call 08701 123 123 . You will need to have your IMEI number (15 numbers) when reporting a stolen mobile phone – this can be found by dialling *#06# on most mobiles or by looking behind the phone battery. You should keep a note of your IMEI number in a safe place. Never leave your mobile unattended.
Taking out insurance
It is very important that you take out insurance in case of theft and accidental damage. For general advice on insurance and a full list of providers, contact The British Insurance Broker's Association at www.biba.org.uk.
Safety at home
Please take on these basic tips for staying safe while at home.
When possible, lock all outside doors and windows when you are at home
If you are female and live in a flat with a door entry system, do not put 'Miss / Ms' in front of your name, just use your family name
If you have a telephone answering machine, don't say 'I am not available…', say 'No one is available…'.
If you are going away, tell someone you trust where you are going and when you will be back.
Leave keys in a safe place where you can find them easily in case you need to leave in a hurry, but don't keep them near doors or windows.
Take fire safety seriously. Your rented accommodation should have fire extinguishers and fire exits. Make sure you know how to use them and where to find them. If you are renting a flat, also ensure that it has smoke alarms and that they are in working order. If the flat has gas heating or appliances ask the landlord to see the safety certificate and ask the landlord for a carbon monoxide detector. Instructions for carbon monoxide safety can be found at http://www.carbonmonoxidekills.com/27/carbon-monoxide-advice.
Safety on the streets
It is usually safe to walk on the streets in the UK, although you should avoid walking alone at night and use your common sense wherever you are.
When you first move into your accommodation find suitable and safe routes to shops, the Underground and TopUp Learning London (Tti).
Try to find routes that are busy and have lots of light. In particular bus routes where there are most people.
If you are returning home late at night, walk in a group or use public transport. Don't take shortcuts through parks or dark streets. If you feel safer doing so, carry a personal attack alarm in your hand when walking at night in case you need it quickly.
Avoid confrontation, it's better and safer to walk away if you are being hassled. If you feel you are being followed, cross the street (more than once if necessary) and if you are still unhappy, move quickly into a public area such as a restaurant or bar and phone for help. It is not necessarily the best idea to use the first phone you see if it is in an isolated place.
Carry your bag close to you with the clasp facing inwards, or strap it over your shoulder. If someone tries to take your bag, let them – your safety is more important. Have your keys ready well before you reach the door of your car or house. If you live in a shared house, be careful who you let in: don't let any strangers follow you inside.
Take care on the roads. Walk on the pavement. If there isn't a pavement walk on the right hand side of the road, facing oncoming traffic. When you cross the road, remember that cars drive on the left in the UK – your habit may be to look in the wrong direction.
Don't carry large amounts of cash with you when you go out. Always carry enough change to make a phone call (20p) or to get a taxi. Be careful when using ATMs and try not to use them at night or in dark places. If possible go with a friend and leave as soon as you have your money.
When you use your mobile phone in public keep the conversation short, and especially if you have an expensive-looking phone be aware that thieves may be watching. When you use a public phone box, face outwards so you can see what's going on around you.
Don't accept drinks or drugs from strangers or leave your drink unattended in a public place – cases of drinks being 'spiked' (drugs added) have been known. Remember that the use of drugs in the UK is illegal, and if you are caught using drugs you can be arrested and fined or imprisoned.
Using public transport
Public transport in the UK is relatively reliable and convenient. If travelling by bus try not to wait alone at bus stops. When on the bus, sit downstairs where the driver and other passengers can see you. Arrange for others to meet you at the bus stop if you are returning late and have a long way to walk home. If you travel by train or tube, don't sit in an empty carriage. Try to sit near groups of people, in a bright area. Store your luggage as close to your seat as possible, or where you can easily see it. Check the time of the last train, bus, or tube home. If you are lost, or in need of help when travelling by train, find a member of staff or telephone the British Transport Police on free phone 0800 40 50 40.
To remain safe and alert don't listen to personal stereos or have long conversations on mobiles while you are travelling.
If you are using a smartphone, here is some Apps that we recommend you the best to get any place in London and how long is going to take you to do it:
Using taxis
There will probably be times when you need to take a taxi during our stay in the UK, for instance when you first arrive here or after a night out. If you don't feel safe walking home or travelling on a night bus, use a taxi. You do need to be careful when using cabs late at night. Only use licensed taxis! Some minicabs that stop in the street may be cheaper but are not licensed and are therefore not as safe as taxis or minicabs you arrange by phone. If you are offered a taxi by a man standing on the street it is probably unlicensed.
There is a taxi company in Camden, Spottycars. It is located just around the corner of Sports Direct shop, contact details: 1A Delancey Street London, NW1 7NL, Tel. 0207383 3333. It is reliable and cheap.
Alternatively, download the UBER App!
Driving in the UK
For international students in London, a car is almost certainly more trouble than it is worth. However, you may decide to travel around the country in a rental car, in which case you must familiarise yourself with the rules of the road. Visit www.direct.gov.uk and search for the Highway Code.
Laws in the UK
The laws in the UK may be different from those in your home country. This especially applies to the use of tobacco, alcohol and weapons. You must not carry drugs with you (unless prescribed by a doctor) or use any illegal drugs, including cannabis, ecstasy, LSD or amphetamines. It is illegal to carry any sort of weapon, including knives, self-defence chemical sprays, guns or stun guns. You must be 18 and over to buy tobacco. You must be 18 and over to buy alcohol. Never buy things that you think may have been stolen. If a stranger on the street offers to sell you a laptop computer then it's definitely trouble!
If you need legal assistance, there are a number of organisations that can help you, for information about how to get free, confidential and independent legal advice visit the Directgov website. Also the Citizens Advice Bureau (www.citizensadvice.org.uk) provides free, confidential and independent advice on a wide range of issues.
Britain is a tolerant society that believes in respecting the rights of minority groups. This belief is supported by law: if you are the victim of any racial abuse, report it to us at TopUp Learning London (Tti). We have a formal procedure which will help you. You can also report it to our local branch of the Equality and Human Rights Commission. You can contact them on 0845 604 6610 or find out more from their website
General Terms & Conditions
Payment
Please send either the total fees for the course, or a minimum deposit of £255 for courses of four weeks or more, or £145 for courses of less than 4 weeks.
Payment can be made by: – International Bank Transfer – you are responsible for all bank charges. – Sterling cheque drawn on an English bank in the UK – Debit card – Credit card – subject to a 2% handling charge
The payment of the balance of the course fees must be paid on the dates agreed when you register (normally 2 weeks before your course starts).
A registration fee of £60 is charged on all courses.
Course fees do not include the Social Programme (some activities are free)
Age
Minimum age: 16 for General English Courses.
Minimum age: 30 for our 30+ General English Programme
Cancellation Policy
Deposits, registration fees, and courier fees are non-refundable and nontransferable.
Minimum £500 is non-refundable at any point of cancellation.
Minimum 2 weeks of accommodation fee is not refundable at any point. For cancellation during the course, minimum 2 weeks notice is required.
There is no refund of tuition fees after arrival in the UK or after the start date of the course.
However in the case of unsuccessful visa applications, and providing the correct documentation is provided to support this, we will refund any fees paid, less the deposit, registration fee, and courier fees if applicable.
If unsuccessful visa applications are a result of fraudulent, misleading, falsified documents used during the visa application, then no refund will be processed.
At the discretion of Tti School and with at least three weeks' notice you can postpone the start of your course up to a maximum of one year, with no loss of fees or deposit.
There is no refund of tuition fees after arrival in the UK, but at the discretion of Tti School, if a course cannot be completed for good reason, a credit note for the remaining time may be offered. However a minimum of two weeks'
notice must be given and course credit notes are not transferable.
All cancellation or postponement requests must be made in writing, and any repayment has to be made as it was received (i.e. to the originating credit card or bank account, or in cash if applicable).
All refund will take up to 90 days to complete.
Attendance
As a student you are expected to attend classes regularly and on time. You will lose tuition if you are late, absent or leave before a course ends. Please see our Attendance and Lateness Policy.
Student holidays
Holidays can be taken by arrangement, but two weeks' notice must be given.
Holidays taken from your course must start on a Monday and end on a Friday.
The amount of holiday you can take depends on the length of your course.
Public Holidays
There is no reduction in the course fees where the course includes a public holiday.
Class Sizes
General English classes have a maximum of 15 students.
Exam Preparation, 30+ General English classes have a maximum of 12.
TopUp Learning London (Tti) School of English reserves the right to cancel or alter a course if necessary and will offer an alternative if this happens.
Online classes have a maximum of 10 students
Exam Preparation Courses
Examination preparation courses will run as advertised if four or more students are enrolled.
Examination preparation course fees do not include an external examination fee.
Class Length
Each lesson is 50 minutes.
One to one lessons are 60 minutes.
Promotional Photography
Sometimes TopUp Learning London (Tti) School, or our representatives, take photographs and videos during our courses which may be used for promotional purposes. Please advise at the time of booking if you do not wish to appear in any promotional material.
Data Protection
In order to fulfil our obligations to you and in some cases to the British authorities, it is necessary for us to see and copy your passport and visa if appropriate. We also need to have your contact details both in London and at home and to know who your next of kin is. By enrolling you therefore agree to provide these and keep us informed of any changes. You also give permission to share these details at a time of inspection by an English UK inspector or government official. Please see our Privacy policy for more details.
Accommodation
All accommodation is subject to availability and early booking is advisable.
If you require an accommodation, one weeks' rent plus the £60 finding fee is payable at the time of booking.
Full payment for the accommodation booking must be received two weeks before arrival at the latest. Tti reserves the right to cancel accommodation if payment is received late.
In the case of full or partial cancellation of accommodation before arrival, two weeks' notice must be given to the office staff during the normal office hours of Monday to Friday, not after office hours or over the weekend. If less than two weeks notice is given two weeks' accommodation will be charged, plus the standard accommodation finding fee.
If accommodation is cancelled after arrival, two weeks' payment will be taken (four weeks in Premium Studio), plus the accommodation finding fee.
It is forbidden to smoke in any of the accommodation provided, however in some accommodation, an outdoor space may be available. (If required please request this at the time of booking).
Bookings are Sunday to Saturday as standard, so in the case of a late arrival or an early departure, you will be charged for a full week.
Any refund agreed will be made after the departure date as originally booked.
If, in exceptional circumstances, the accommodation booked becomes unavailable for reasons beyond our control an alternative will be arranged, but details may differ.
Students aged 16 and 17 without a guardian in the country must book half board homestay accommodation and Tti School can only arrange this with written consent from either a parent or legal guardian.
TopUp Learning London (Tti) uses reputable agencies to assist with the provision of accommodation for its students.
We try not to place students of the same mother tongue in accommodation together in order to encourage the use of English at all times. If you have a strong preference either way please tell us at the time of booking.
Admission
TopUp Learning London (Tti) School of English reserves the right to refuse admission or dismiss any student without refund of fees, in the event of misconduct, non attendance or repeated late arrival.
TopUp Learning London (Tti) School of English also reserves the right to refuse to provide tuition or accommodation or any other service normally offered, if payment has not been made as agreed, either by an individual student, or an agent acting on his or her behalf.
Insurance
We recommend students take out health and travel insurance. The school is not able to accept responsibility for loss or damage to personal property.
Internet Access
The school has a wireless LAN Internet connection available that is free of charge, however the school cannot guarantee this service or provide technical support. You should use appropriate firewall software and virus protection as use of this service is at your own risk. This also applies to TopUp Learning London (Tti) accommodation.
TopUp Learning London (Tti) School Policies & Rules
Attendance and Absence from School
At TopUp Learning London (Tti) our students' progress and achievement in their studies is important to us and for this reason we ask you to attend class every day. If you have a student visa, you will also be aware that you should be attending classes for 15 hours minimum per week. Your teacher will mark you absent or present each day. If you attend only before the break or after the break you will receive a half attendance. If you are not feeling well please call the school to tell us you will not be coming to your class. The office number is .
020 7419 2300 — you can speak to someone or leave a message 24 hours a day. You must attend a minimum of 80% of your course to receive a Leaving Certificate.
Students who are absent for two days or more without telling the office
We will try to contact you, and you will be sent a letter/email which reminds you that you risk losing your place on a course at TopUp Learning London (Tti) if you do not contact us before the date mentioned in the letter (usually one week later). If you have been absent for over a week without telling us, please speak to the Registrars in the office or to the Director of Studies, before going back to your class. This is just so that we can keep our records up to date.
Students who continue to be absent for one week or more
If you continue to be absent for one week or more and we still haven't heard from you, your name will be taken off the register. If you hold a student visa we will notify the UKBA immediately after ten consecutive absences. If you are in this situation, please speak to the Registrars in the office or to the Director of Studies, instead of going back to your class. We will decide what to do on a case-by-case basis.
Students who have consistently bad attendance
If you are absent from school for more than two days per week over a number of weeks, we will try to contact you. Please remember that if you have a student visa low attendance can affect your application to extend your visa.
Booking Holiday from School
You can take holiday during your course at TopUp Learning London (Tti) without losing any of the weeks of study that you have paid for! To take a holiday please follow the procedure carefully:
Holiday must be from a Monday to a Friday (full week)
You must send a request to info.london@topuplearning.com one week in advance.
The amount of holiday you can take depends on the length of your course. If you would like to take extra holiday, please come and discuss this in the office. If you have a student visa, taking more than the recommended amount of holiday may affect your visa application.
| | |
| --- | --- |
| Length of course | Holiday Allowance |
| 1 month | None |
| 2 months | 1 week |
| 3-4 months | 2 weeks |
| 5-6 months | 4 weeks |
| Academic year | 6 weeks |
Course Changes
The school makes long-term plans to provide requested courses, so in general we expect you to complete the course you booked. There are some circumstances in which we are willing to allow students to change their courses. For example, if you get a job which clashes with your course time, your employer may write a letter asking for your course time to be changed, and if there is a space available in a class at your level we will do our best to offer you an alternative. If you move to a course that is more expensive you will have to pay the difference in price between the two courses on a pro- rata basis. There is no refund for changes to cheaper courses. We cannot convert group classes into one to one lessons.
Behaviour
Lateness Policy
To ensure that all students get the most out of their lessons and to be considerate to the teacher's preparation of each lesson, all students are required to be punctual to all their lessons throughout the day. Any lateness will affect other student's learning and disrupt the teacher's delivery of the lesson.
Any student who is late in the first 20 minutes of the lesson may be asked, at the teacher's discretion, to join the class at the beginning of the following activity.
Any student who is more than 20 minutes late, without a genuine reason, will not be allowed in and marked absent. For the morning general English lesson, students who are late for the lesson before the break will be allowed to join the lesson after the break. Should any student have a genuine reason for being late, they must contact the school immediately (0207 419 2300) or info@TopUplearning.com so that their teacher is aware before they get to the classroom.
The school opens half an hour before the first lesson starts so that you can arrive in good time. When students are late it is difficult for the teacher to start the lesson properly, which affects the quality of the lesson for other students, so please do your best to come to your lesson on time. If you are slightly late please go directly to class and be prepared for you teacher to ask you to join the lesson at the beginning of the next activity. Please do not make yourself even later by stopping at the coffee bar, as that would be extremely discourteous to your classmates and your teacher! If you are more than 20 minutes late please wait until after the break to join the lesson.
Conduct
Please remember that your wholehearted participation in lessons is necessary for them to be as enjoyable and effective as possible. Please respect other students and listen to them when they speak. Please remember that TopUp Learning London (Tti) School, like the UK in general, advocates tolerance and respect for all people, whatever their gender, age, religious affiliation, or sexuality. If a student's behaviour is inappropriate the teacher may refer them to the Principal to discuss the problem. In the rare case where the problem behaviour is persistently repeated, the school reserves the right to cancel a student's course without refund.
Mobile phones
Please turn off your phone during lessons.
Smoking
TopUp Learning London (Tti) School, like every other public indoor space in England, is smoke-free. You may smoke outside on the roof terrace. Please dispose of your cigarette butts in the ashtrays provided.
The coffee bar
Free tea, coffee, and juice are provided all day. In return we ask that you make it easy for the coffee bar monitors by bringing your cup back to the coffee bars after use. If you are going to have more than one, please reuse your cup. There are no suitable spaces in the classrooms to put coffee cups, so to avoid spillages please do not take your cup into your class.
Food & drink
Drinks may be taken in the study lounge, but please do not eat there. You may eat outside on the roof terraces or in the coffee bar if the weather is bad. There is a microwave oven in the coffee bar which students are welcome to use. Please cover your food with a plate so that it does not make the microwave dirty.
Please refer to our Policy Handbook or our website for a full list of our school policies: www.ttischool.com